Roadster/Coupe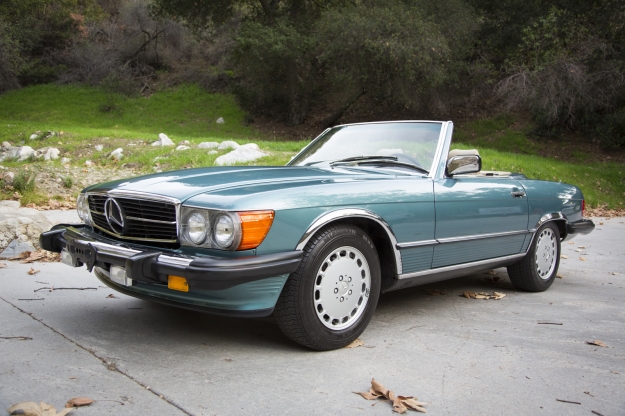 1989 560SL Roadster/Coupe
Petrol Green with Cream Beige Leather
38,000 documented miles since new
100% original paint and interior
new home, Naperville, Illinois
Sold
The 107 chassis is one of the longest running body styles ever produced by Mercedes-Benz. Its durable, sporty and stylish nature made it one of the most sought after and iconic models of the 1970s and 80s. This is an amazing example of one of the limited few that still remain phenomenally well preserved. With the exception of the tires, battery and a few mechanical components, the car is 100% original.

Description:  Petrol Green (MB paint code 877) with Cream Beige leather, Petrol Green hard top and black soft top, 2-door roadster/coupe with 8-cylinder, 5.6 liter, 227 hp, 279 lb/ft torque, fuel-injected, naturally aspirated gasoline engine, 4-speed automatic transmission, power assisted 4-wheel anti-lock disc brakes, 4-wheel independent suspension, driver's side airbag, A/C and heat automatic climate control, power windows, central locking, power steering, cruise control, original Becker Grand Prix AM/FM cassette stereo with adjustable sleeve height power antenna, electrically heated rear hardtop windshield, quartz chronometer, tachometer, 3-way adjustable front seats, front center folding armrest, front center cargo tray, passenger side power mirror, halogen head lamps, halogen fog lamps, 3-speed windshield wiper with 5-second mist interval control, 2-piece protective custom sisal mat kit, burl walnut wood dash trim and console, headlamp turn-off warning device, optional right and left side controlled parking light illumination, full spare and tool kit, first-aid kit, Owner's Manual, Maintenance Booklet and records, plus other original Mercedes-Benz literature. Free and clear California title.


Exterior Condition:  The Petrol Green paint is 100% original, rust free, accident free, and shines like brand new. The paint is deep and clear and not faded or oxidized. There are a few extremely minor blemishes, but the overall impression is phenomenal. The polished anodized aluminum trim is brilliant, without any fading, a telltale indicator of a car that has always been garage kept. The hardtop is in excellent condition. Both front and rear bumpers are in excellent condition. The impact strips are in like new condition. The original 15" rims are in excellent condition as are the Michelin tires.  The factory spare wheel and accompanying original Pirelli 205/65/VR15 P6 Cinturato tire appear to have never been used. The trunk compartment is excellent. The jack and tool kit are all in like new condition. The original door seals, trunk seal, glass seals, rubber weather-stripping, etc., are all in great shape and still soft and pliable. All factory glass is original and in excellent condition. The grill is in excellent condition. The original headlamp bezels, headlamps, turn signals and tail lights are bright and flawless without scratches or fading. All emblems are bright, shiny and excellent. Original factory signature window sticker, interior stickers, interior door jam spec plate and engine compartment data plate are flawless and look brand new.


NOTE:  THE UNDERCARRIAGE STILL HAS TRACES OF THE ORIGINAL PROTECTIVE COSMOLINE UNDERCOATING.


Interior Condition:  The interior to this Mercedes-Benz is stunning. The Cream Beige Leather is soft and vibrant, and there is next to zero wear. The leather has no rips, no tears, no fading, no diminished support in the padding, no pleats that have shifted beneath the stitching, again, virtually no wear whatsoever. The seats are firm, harnessing and supportive. Being garage kept, there are absolutely no cracks in the dash. The original carpets are flawless, without any stains, fading or unraveling, and virtually no wear at all. The OEM carpets are also protected by a 2-piece custom sisal mat kit. The soft top is in incredible condition and was rarely used. The plastic windows are clear and without scratches. The exterior canvas is flawless along with interior soft top headliner and insulation. The speaker grills are like-new along with the unopened first-aid kit.  The burl wood dash trim is stunning. It has absolutely no stress cracks anywhere, including the console. It is clear and deep with a durable shine. The sun visors along with corresponding vanity mirrors are spectacular. The door panels are crisp and tight. The map pockets are equally impressive and have no cracks, scuffs or tears. The accessory switches, knobs, buttons, turn signal lever, cruise control lever, etc. are in excellent condition without any faded symbols, and they are all in proper working order. The steering wheel is firm to the grip without any twisting or slack.


Mechanical Condition:  This car runs absolutely excellent! It starts, drives and handles fantastic. It has been driven regularly, but sparingly since new, and has never sat for any extended period of time. It has been exceptionally well maintained since new, and has never missed a single scheduled service. It's durable and extremely powerful 5.6 liter, 8-cylinder engine is sporty, smooth and strong. Cold starts are instantaneous, which is a validation to its low miles. The motor, chassis and engine compartment are all exceptionally clean and dry. There are no leaks of any kind. The transmission shifts sure, timely and proper. Independent suspension is solid and comfortable, and the steering is tight and responsive without any play. This car is truly a pleasure to drive. It is fast and responsive, and handles exactly as you would expect any car with less than 40k miles to drive. A recent mechanical service of $3500 refined what is already an exceptional car. The work done included but was not limited to a 30K service -- replaced all fluids (oil, transmission, brake, power steering, coolant, etc…), replaced all filters (oil, fuel, steering reservoir, transmission, etc.), replaced all belts (A/C, alternator, smog pump, power steering, etc.), replaced all spark plugs and several hoses. Also installed new transmission cooler lines, new sub-frame mounts, new windshield wiper inserts, new mister nozzles, new mister reservoir heaters and resealed power steering pump. There are currently no pending maintenance issues.


Accessories Condition:  All power windows function excellent. Central locks work fast and excellent. Alarm works properly. Cruise control sets and holds properly. Air conditioning/heater/defrosters all work excellent, and blow heat and air from the proper vents respectively. Becker Grand Prix AM/FM cassette stereo works excellent, along with adjustable height power antenna. Instrument cluster gauges all work excellent, including: clock, odometer, tripometer, tachometer, rheostat illumination switch, oil pressure gauge, temperature gauge, fuel gauge, fuel consumption gauge, etc. The instrument cluster is bright and flawless, without any faded needles or aging. Seats adjust smooth and proper. Dash compartment opens/closes/locks properly. One key fits front doors, trunk, and glove compartment (all 3 original keys). Spare tire has never been used. Headlights work excellent, along with high beams, fog lights, brake lights, parking lights, reverse lights, turn signals, trunk light, license plate lights, dash compartment light, accessory switch illumination light, instrument cluster lights, etc.