Zack Gubler ~ Phoenix, Arizona ~ 1978 300D
JG Francis of Mercedes Motoring is a gentleman and an artist. His cars are a labor of love, with the attention for detail that one would expect. They are showpieces, to be sure, but they're meant to be driven. I tested this out first hand when I flew into L.A. to pick up a 1978 300D, which I then drove 400 miles home. It handled like a dream. What I learned from the experience is that there are few pleasures in life comparable to floating across a quiet desert at night in a perfectly restored vintage diesel Benz while listening to Blood on the Tracks on an (excellent) stereo system. Thanks to JG and Mercedes Motoring for their amazing work.
Patti Grub ~ 1988 560SL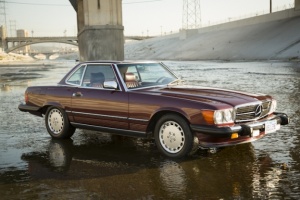 Who knew that a complete stranger traveling across the US would unite me with Mercedes Motoring and JG Francis.

What turned out to be a most serendipitous event landed me in touch with JG at Mercedes Motoring. It was a most exciting day. Our conversation convinced me that this was the place my darling little 1988 560 SL convertible (with only 7,500 miles) should be for the new owner. It turned out to be one of the best decisions I have ever made.

The first thing I want to say about JG, is that he is honest, a man of his word, and always reachable. A rarity in this day and age. Thank you JG.

I had a uneventful, uncomplicated, simple agreement and sale that everyone dreams of. I would like everyone to know that any connection with Mercedes Motoring will be a good one. Anyone wanting the same easy arrangement for the sale or purchase of one of his gorgeous vehicles will find a genuine guy (and others) out to do the absolute best for you.

Thanks again JG and staff.
Bill Morris ~ Tacoma, Washington ~ 1983 300D
JG is an artist, and older Mercedes, especially diesels, are his canvases. It is such a pleasure to find a truly reliable person in the older-car-selling world. The risks related to buying these cars can be expensive and disappointing, but not when JG is involved. He is kind and honorable. His passion for the cars shines through his conversations.

He finds cars we normal people consider impossibly nice and then makes them even better by his thorough mechanical and appearance restorations.

I've bought two cars, both without seeing them, and they are terrific. He's also helped me sell two other Mercedes and was very fair with that side of the equation as well.

If you're looking for an older Mercedes, this is the only place you'll ever need to go.
Richard Rowlands ~ Burbank, California ~ 1974 280C
As a life long car collector from a family of car collectors I have had classic Mercedes-Benz sprinkled throughout my lifetime but never had one of my own. After nearly a three-year search I stumbled across JG and Mercedes Motoring right in my own backyard and cannot believe my good fortune. As anyone in the contemporary car collecting world knows there is too often some sort of mystery involved in many of the cars offered for sale out there but with JG, almost all of that mystery is removed. His thoughtful research and careful restoration of superior quality cars sourced from good homes is incomparable. That coupled with the amazingly detailed and high quality interior work of his long time friend and collaborator, Sean, makes for one of the best experiences I have had purchasing a collector car. Take a look at Mercedes Motoring's web site and it's like choosing which candy to buy in an old fashioned candy shop. If you have any hesitation on a purchase from JG, I highly recommend a visit with him. I guarantee your hesitation will quickly fade....
Guy Lewis ~ Naples, Florida ~ 1979 300SD
I am a private collector from South Florida who has a number of older, low mileage Mercedes. J.G. seemed to have a stable of super nice, low mileage examples. He was extremely professional, courteous and honest. His descriptions were dead on. I bought a mint condition 1979 300SD sight unseen. When I took delivery of the car it turned out to be better than J.G. had described. No hype. No salesmanship. Just did a terrific job from a guy who genuinely loves Mercedes-Benz as much as I do.
Eric Freidenrich ~ Balboa Island, California ~ 1984 300TD
We were thrilled to find Mercedes Motoring after trying for a year to find a Mercedes wagon on our own ... After reviewing our needs and preferences, JG quickly got to work and presented several Mercedes wagons to us. After a short time, JG found our dream car.

Not only did JG find our car, but he then flew to Georgia to inspect it personally to make sure it was the right car for us. The car was as good as the seller said, and JG quickly managed the car purchase for us. JG then had our car shipped cross-country to his garage and through his thoughtful and creative restoration work, made sure in the end that we got the car of our dreams.

And after taking delivery, we are now really enjoying the car. Our children still argue about who gets to ride in the third row - who knew looking backwards could be so popular. Taking a drive to the hardware store, or on a day-trip are equally satisfying - we truly love our wagon. And it is a head turner - nearly every time we take it out, someone stops and asks us how old the car is, and what kind of work we have done to maintain it's appearance. To be honest, we feel like a we're riding around with a celebrity sometimes.

Without JG, this never could have happened. Thank you JG for turning our automotive dreams into reality.
Richard ~ Covington, Louisiana ~ 1980 300CD
After looking at several early '80s MB diesels on eBay and being disappointed with the sellers' knowledge of technical information about the cars and/or knowledge of the history of the cars for sale, it was a relief to come across one of J.G.'s cars and do business with him. The car was everything it was represented to be. J.G. readily answered all my questions, picked me up and delivered me to the airport when I flew to California to look at the car, had the pre-delivery "punch-list" items we agreed upon completed, and made himself available to meet the auto shipper I hired to transport the car to Louisiana when the shipper wanted to pick up the car. He even promptly helped with post-sale document issues that had to be resolved to meet Louisiana's automobile registration requirements. The entire transaction was an excellent experience. I would not hesitate to recommend J.G. to anyone wanting to buy one of these vehicles.
Sara Kaye ~ Atwater Village, California ~ 1984 300D
TESTIFY! Buying a Mercedes from JG should be something you put on your list of things to do before you die. I think JG himself told me that since most people have to drive a car, you might as well make the buying experience fun. I still remember the day he sat with me in my car and went over every single detail, every switch, knob, and feature. He was so upfront and enthusiastic I felt like I was participating in a ritual, it was a special event. I love my car. Buy one.
Justin & Madeline McJones ~ Palos Verdes Estates, California ~ 1979 300SD
We have been very pleased with our purchase decision from J.G. The car was very accurately presented and described, and when it came time to view the car personally, J.G. did a great job of not applying any pressure. He has a genuine concern for seeing the right car go to the right buyer. We are very impressed with J.G.'s ability to find and present exceptional cars with a great style. If you find one of his cars intriguing, I recommend you get in touch and make a deal immediately.

Kevin Hassett ~ Beaverton, Oregon ~ 1983 240D
I was looking for a older Mercedes diesel but I wanted one that was more like a new car in terms of it's condition. I was not happy with what I saw on Ebay and other sites and then I stumbled on Mercedes Motoring. I went over the web site in detail, watched the videos, and read the testimonials. I was very impressed with JG's philosophy and the way he turned these older cars into vintage automobiles.

JG was very responsive to my queries via email and we had an excellent conversation on the phone and he answered all of my questions. Even though I asked many questions before the purchase, I never got the impression that he was impatient with me. I considered flying down to see the car but I was so impressed with JG's knowledge of the car and his integrity that I bought the car sight unseen. I was a little nervous about this but JG gave me several references to check with and I must say that I just knew that he was genuine. I really felt that I could trust him.

JG and Becki walked me through the purchase process and the delivery. They gave me regular updates until the car shipped. The shipper was very good and when the car arrived, it was exactly as JG had described it. There were a couple of things that needed attention and JG was just as diligent getting me the information I needed after the sale as before.

In summary, working with JG and Becki was a very enjoyable experience. I highly recommend Mercedes Motoring to anyone looking for not only an excellent car, but a very satisfactory purchasing process.
Ryan Lum & Anji Bee ~ Long Beach, California ~ 1981 300D
It was love at first sight with this gorgeous little 300 D… I was lucky enough to catch a glimpse of her in person, at the shop where JG was diligently working his magic before the car was even fully completed. The condition of the seats and interior alone were enough to make me drool. But the paint, trim, and everything else were equally impressive. The engine was so clean you could eat your lunch on it.

It is obvious that a lot of love went into the restoration of this car, and JG was an absolute dream to deal with. He is refreshingly honest, easy to communicate with, and punctual. His attention to detail is maniacal. Simply put, he is an artist. His taste is impeccable. And he seems to have a psychic ability for locating the very best used Mercedes around. But he doesn't stop there; once JG finds the best cars available he then restores them to like-new condition.

Getting into my 300 D is like stepping back in time to drive one of the sexiest cars ever made; one which is way out of my price bracket. I feel like a million bucks in this thing! Better yet, I can feel great about driving it because I am using the latest technology in diesel fuel, which is ecologically superior to gasoline. Plus, I am "recycling" an automobile and therefore not contributing to further pollution caused by the manufacturing of a new car. Its a win-win, really.

But the real reason I love this classic car is that its so stylish, clean, and fun to drive!

JG is the very best.
Anji Bee of Lovespirals
Jessica Masters ~ Silverlake, California ~ 1982 300D
I would absolutely recommend purchasing a Mercedes diesel from J.G. Francis. My experience purchasing my 1982 300D Turbo Diesel met my every expectation, and I am a 100% satisfied customer. J.G. is honest, extremely knowledgeable and very helpful through every stage of the buying process. I fell in love with my car the moment I saw her (midnight blue and palomino) and I am still very happy with "Veronica" to this day.
Molly Sjoberg ~ 1979 300D
The car is great! We took an 800 mile round trip drive up highway 1 to San Francisco in the car, and had a blast! (She looked very good at the state campground!) I give J.G. a great recommendation! …(more to come).
Ebay Customer Feedback 100% Positive
100% ACCURATE! MY SEARCH FOR THE NICEST MERCEDES DIESEL I COULD FIND ENDED HERE!
Excellent deal! Car is better than described and the seller very accommodating!
Great car and smooth transaction. Very pleased!
Awesome car, amazing condition! represented perfectly. smooth transaction. A++
Description of Mercedes was absolutely accurate. Fabulous photos-very satisfied!
The transaction was virtually effortless and all made so by Jimmy, EXCELLENT!
Beautiful car, just like description. Excellent seller, I recommend him. Thanks!
Wow! Well represented and this guy went the extra mile. Buy with confidence.
This car and seller is absolutely awesome. Best car ever..Great guy to buy from.
Well represented, very nice car, good price!
Amazing seller, amazing automobile! The entire transaction was perfect!
This was a great experience. The car is everything as advertised.
Fabulous car, fabulous transaction, Jimmy is the man!
TRULY ONE OF THE FINEST CARS I HAVE EVER SEEN. GREAT SELLER,GREAT CAR.
Highly recommended. Honest, Fair. Responsive. A very, very good transaction.
Beautiful car! Exceeded my expectations. Easy communication with seller.
Fantastic Classic Benz! Professional, friendly and great customer service!
Perfect transaction! THANK YOU for being honest and accurate in your description!
Excellent car, and exactly as described. Very honest seller. Thanks much!
FUTURE SUCCESS IS ON THE WAY! OUR CLASSIC MERCEDES BENZ IS GORGEOUS, THANK YOU!!