Diesel Sedan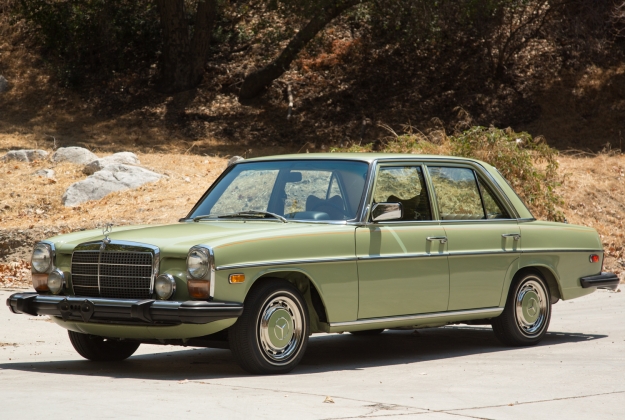 1976 240D Diesel Sedan
RARE Caledonia Green with Beige MB-Tex
100% original paint
One owner until 2010
Fully documented history all the way down to every fueling since new
This was my personal car for years
I know the mileage is higher than the typical MM car, but don't let that fool you. This is one of the best W115s on the planet
New home, Battle Ground, Indiana
Sold
Description: Rare Caledonia Green (MB paint code 867) with Beige MB-Tex. 4-Cylinder, 2.4 liter, fuel-injected, naturally aspirated diesel, single overhead cam, 4-speed automatic transmission, power assisted 4-wheel disc brakes, 4-wheel independent suspension, automatic air conditioning / heat climate control, central locking, power steering, original Becker AM/FM Stereo with manual antenna, electrically heated rear windshield, quartz chronometer, 2-way adjustable driver and passenger front seats, 14" steel wheels with matching Caledonia Green hubcaps, front and rear center folding arm rest, front center cargo tray, halogen head lamps, 2-speed windshield wiper with 5-second mist interval control, loop carpet, driver accessible rear dome light switch, headlamp turn-off warning device, optional right and left side controlled parking light illumination, full spare and tool kit, road-side trunk reflector, first-aid kit, Owner's Manual, Mercedes-Benz dealership stamped Maintenance Booklet, along with every hard copy invoice throughout its history, and other original Mercedes-Benz literature.
Exterior Condition: The Caledonia Green paint is 100% original and 100% rust free. The condition is absolutely phenomenal!  It is clear and deep, not faded or oxidized, and literally shines like brand new.  There are a few very, very minor blemishes, but the overall impression is astonishing. The polished anodized aluminum trim, which wraps all of the exterior glass and also runs along the roof rails, etc., is brilliant, without any scratches or fading, the latter being a telltale indicator of a car that has always been garage kept. Both the front and rear bumpers are in excellent condition without any scratches in the stainless steel, and the corresponding rubber bumper body sleeves and impact strips are in like new condition as well. The body molding body trim, which trims all of the doors, fenders, quarter panels and trunk is near perfect, with absolutely no fading or scratches. The factory 14" steel rims (recently powder coated) and matching stainless steel Caledonia Green hubcaps are in all in like new condition. Additionally the lug nuts and hub cap clips were recently stripped and cadium plated. The Michelin 195/70/R14 Defender tires are brand new, along with original unused spare, and the original factory tool kit included. The trunk compartment is excellent. Era correct pinstripe is flawless. The original door seals, trunk seal, glass seals, rubber weather-stripping, etc., are still soft, pliable and in excellent like new condition. The original factory glass is excellent. The original chrome grill is excellent. The headlamp housings are beautiful, as are the side markers, and all of the emblems are bright, shiny and excellent. The taillights are bright and flawless without scratches or fading. Original factory stickers, interior stickers, interior door jam specification plate, dealership inspection signature sticker, etc. are all excellent.  
NOTE: THE UNDERCARRIAGE STILL HAS TRACES OF THE ORIGINAL PROTECTIVE COSMOLINE UNDERCOATING, AND THERE IS ABSOLUTELY NO RUST ANYWHERE ON THE VEHICLE. 

Interior Condition: The interior of this sedan is absolutely stunning. It is nothing short of going to the Dealership in 1976 and purchasing the car brand new. The Beige MB-Tex is in perfect, like new condition. There are no rips, no tears, no fading, no diminished support in the padding, no pleats that have shifted beneath the covers, and virtually no wear whatsoever. The original loop carpet is flawless, without any stains, fading, unraveling, and virtually no wear at all.  The headliner looks brand new. The door panels and map pockets are excellent without any cracks, scuffs, or tears. The original unopened first-aid kit appears to have never been used. The instrument cluster is bright and flawless, without any faded needles or aging.  The accessory switches, knobs, buttons, turn signal lever, etc. are in excellent condition without any faded symbols, and they are all in proper working order. The steering wheel is firm to the grip without any twisting or slack. The roadside trunk reflector, original in-the-package unused tool kit, jack, etc. are all in excellent condition.    
NOTE: VALIDATION TO BEING GARAGE KEPT IS EVIDENT IN THAT THERE ARE ABSOLUTELY NO CRACKS IN THE DASH. ALSO (i.e. bright red seat belt push buttons, no fading on the MB-Tex vinyl, rear dash carpet and speaker grills are like new, etc.) 
Mechanical Condition: This sedan runs absolutely perfect. So much pep and power for a non-turbo 240D! It has been exceptionally well maintained since new, and has never missed a single scheduled service. Its durable and fuel efficient 2.4 liter, 4-cylinder diesel motor is smooth and strong, and it gets an average of 30MPG.  Cold starts are instantaneous, which is validation to its low miles, and the motor, chassis, and engine compartment are exceptionally clean and dry. The transmission shifts sure, timely, and proper. Independent suspension is solid and comfortable, and the steering is tight and responsive without any play. Recently the car received its scheduled maintenance service, new front and rear brake pads, valve adjustment, new fuel filters, new shocks, new tires, new belts, new hoses, new battery, all new front end steering components, new quick-glow kit, etc., There are currently no pending maintenance issues.
Accessories Condition:  Central locking works fast and excellent. Air conditioning, heater/defroster work excellent, and blow heat and air from the proper vents respectively. Becker AM/FM Stereo works excellent, along with manual antenna. Instrument cluster gauges all work excellent, including: clock, odometer, tripometer, rheostat illumination switch, oil pressure gauge, temperature gauge, fuel gauge, etc. Seats adjust smooth and proper. Glove box compartment opens/closes/locks properly. One key fits front doors, trunk, and glove compartment. Headlights work excellent, along with high beams, brake lights, parking lights (side markers), reverse lights, both dome lights, turn signals, trunk light, license plate lights, glove compartment light, accessory switch illumination light, instrument cluster lights, etc.

NOTE:
I often get asked why cars come back for sale occasionally at Mercedes Motoring like this 240D. There are countless reasons, but here are a few of the most likely. One common situation is that some collectors do not keep their cars for very long. They move through them fast and are constantly buying and selling. I also offer a great buyback program, so I generally get the chance to buy cars back before they might go for sale on the open market. Also, sometimes customers decide they want to change it up and go from say a 300TD wagon to a coupe, or maybe a sedan to an SL. Other times people relocate and might not have the same room they had before to keep a car in their garage. The reasons are endless. All this said, most of the time I sell a car I sadly never see it again. The average buyer tends to keep their prized piece for many years, which is actually what I love to see most. As hard as it is to let them go, I can't keep them all! Please email me if you're interested: sales@mercedesmotoring.com

MANY THANKS FOR READING!